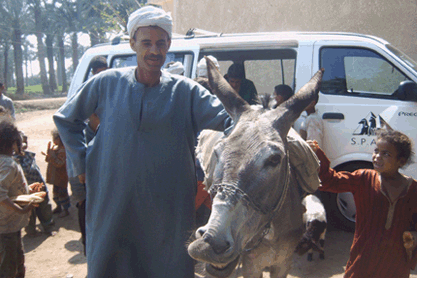 S.P.A.R.E.'s Mobile Clinic started in 2006.
The Mobile Clinic allows us to better serve the community by visiting very remote areas, and thus help the community of cattle and equine owners who depend on these animals for their livelihood, but have neither the financial means, nor the educational background to know and implement proper care agendas for their animals.
Egypt is a primarily agricultural country, and several farming communities come in from rural areas to the city to start a new life. Many of these small, poor farming communities exist in and around the city. Our Mobile Clinic attempts to cater to these needs, and takes the opportunity to both educate the farmers about proper care and treatment of their animals, and to offer that care by providing medicine (which these farmers cannot afford), food and information.

Furthermore, it also allows us the ability to reach more animals in need.
The cost of one trip is quite expensive, since we need to equip the van with medicine for the animals (especially anti-biotics). We also usually bring food to the people in these very poor communities.
If you would like to sponsor our
Community Program
,
click here