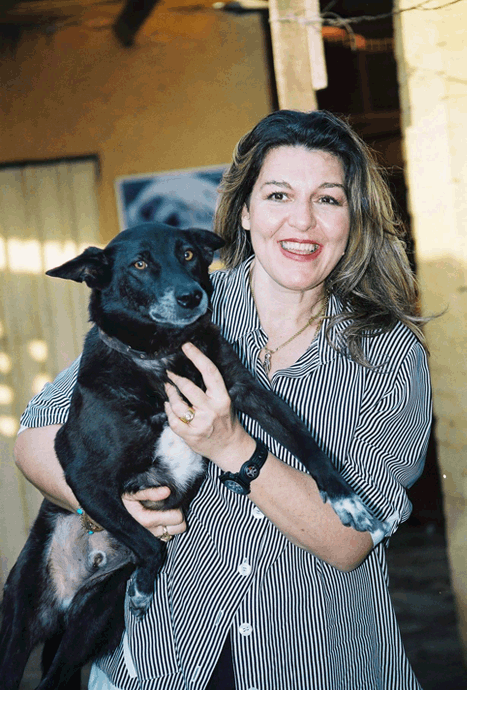 One of the defining moments that led to the founding of S.P.A.R.E. occurred when Amina Abaza was eight years old.

Amina was born to Muslim parents in Cairo, Egypt, and they raised her to respect and emphasize with all living beings. Amina always loved animals, but didn't have a pet as a child.



La Plus Belle de la Terre


Amina attended a French Catholic school, and would wait for the school bus every morning in front of her house. One day, as Amina was waiting for the bus, a stray, white female dog sauntered over and sat next to her.

The same thing happened the next day.

And the next.

A friendship of sorts developed between the two: Amina would arrive at the bus stop, and find the dog faithfully waiting for her, be it winter or spring. She would share her school lunch with the dog every morning, and lovingly called her "

La Plus Belle de la Terre

", which means "The most beautiful girl on earth" in French. This wordless exchange of love became a special morning ritual for them both.

Then one night, Amina heard a gun shot under her window. She couldn't bear to look, being too young and scared, but she was sure that something terrible had happened.

And sure enough,

Plus Belle

had been shot.



The Legacy


Amina grew up to become a successful woman, holding the position of chief translator for Egyptian Satellite Television. But she never forgot Plus Belle, and that first bond between her and a helpless animal became the driving force behind her passion to change the fate of all animals in Egypt.

Amina started rescuing animals from the Cairene streets, and bringing them into her home long before S.P.A.R.E was established in 2001.



Fate


It was fate (well, a dog actually) that brought Amina and her soon to be husband together… and the inevitable establishment of S.P.A.R.E.

Faced with the challenge of finding a home for an abused Great Dane, a mysterious 'perfect adopter' with 'beautiful eyes' emerged. Little did Amina know that this man with a kind heart was to become her life partner and greatest ally.

Amina's husband, Raouf Mishriky, was a key factor in the establishment of S.P.A.R.E.

Raouf helped Amina both morally and financially in the fledgling days of S.P.A.R.E. Together, they rented a plot of land 20 minutes outside of Cairo where stray animals could find refuge.

The lifelong dream of Amina became a reality when - in August 2001 - S.P.A.R.E. became the first registered charity for the protection of all Egyptian animals, in a country where there are still no effective laws to protect animals. S.P.A.R.E. started off with four dogs, and has steadily grown as the pioneering animal welfare society it now is.