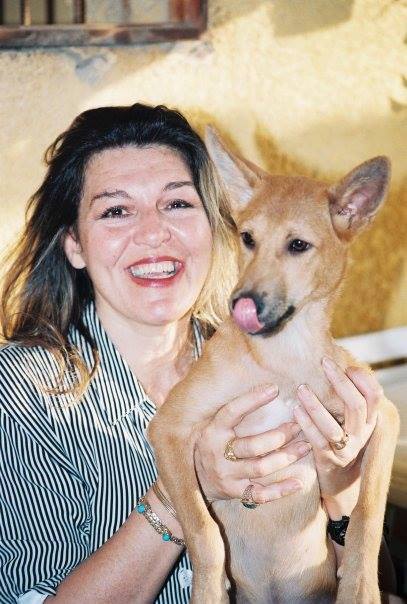 Amina Tharwat Abaza: Founder and president of the board of the Society for the Protection of Animal Rights in Egypt (SPARE.) Abaza has a BA in French literature and she worked as an editor for several newspapers and magazines. She also worked for the Egyptian Satellite Television before dedicating her time for the protection of animal rights.

SPARE, the first fully Egyptian NGO for the protection of animalsí rights was founded in 2001. Abaza was elected Egyptian Ambassador for World Animal Day in October 2008.
The organization includes animal shelter and a veterinary clinic. SPARE works extensively within the community through several programs to raise awareness about animal rights, and to instill the notion of compassion for animals and all living creatures. The NGO use every possible medium to reach out to the public in order to spread their message: television, press and radio. We also organize events and lectures at schools as well as public venues.
أمينة ثروت اباظة: اعلامية مصرية و مدافعة عن حقوق الحيوان ورئيس مجلس ادارة الجمعية المصرية لرعاية حقوق الحيوان. في عام 2008 اختيرت لتكون أول سفيرة مصرية لحقوق الحيوان.
ولدت أمينة بمدينة القاهرة ، وقد تخرجت من كلية الآداب قسم اللغة الفرنسية بجامعة القاهرة عام 1980 م ، وعملت محررة في العديد من الصحف المصرية إلى أن استقرت بقطاع القنوات الفضائية بالتليفزيون المصري ، ثم أولت أهتمامها اخيرا إلى حقوق الحيوان ورعايته.
تقوم الجمعية بالعمل من خلال عده برامج على رفع مستوى الوعى بين الناس حول حقوق الحيوانات وسوء المعاملة التى تتعرض لها داخل المجتمع، وغرس مفهوم الرحمة للحيوانات وجميع الكائنات الحية. تستخدم الجمعية كل الامكانيات المتاحة لها للوصول إلى الجمهور من أجل نشر رسالتها: من خلال التلفزيون، الصحافة والإذاعة و أيضا بتنظيم فعاليات ومحاضرات في المدارس والأماكن العامة