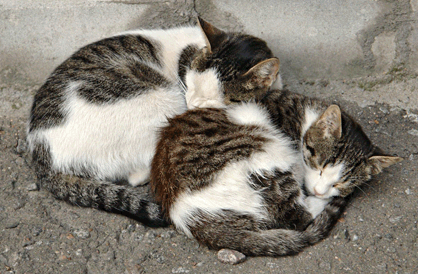 Shooting
Cats also fall to prey to stray animal shootings, though they are not the direct target of stray animal control programs. Cats are more tolerated in Egyptian culture than dogs, and are not seen as sinful.

Cat deaths also occur as a by-product of dog shootings and poisoning: a stray bullet; a large number of cats in an area near by.

Drowning
Many cats are subjected to drowning, especially by young children. We have saved many cats from being thrown into canals, the Nile and anywhere where there is water.

Suffocation
One of the most bizarre campaigns we held was against workers at the Gezira Club. He was ordered by the Club management to dispose of several cats there, and he caught many of them, placed them in a garbage back, twirled the bag in the air, and then started beating it against the ground.
Our investigation, headed by many of the Club members who rightfully found this horrific, resulted in a law suit against the worker, ultimately causing him to lose his job.


Organized Stray Feedings
S.P.A.R.E. considers large-scale stray animal feeding a form of animal abuse, since it puts cats at a great risk of being abused by humans.


Individuals and some animal welfare associations in Cairo organize stray cat feedings around the city. This is most prevalent in Zamalek and some areas of Mohandeseen.

Almost none of the cats are sterilized. Because they are healthier and stronger from regular feedings, they are more likely to produce more and stronger offspring, thus adding to the stray animal population problem; and producing more animals that are likely to be abused. The more animals around, the more chance for abuse.

Newborn kittens are in danger of car accidents, abuse from school children and adults: many kittens trying to cross the street have been hit by cars; we've rescued many kittens from the clutches of school children who torture and beat them. Many residents have also taken it upon themselves to poison unwanted cats.

The cats also become used to being fed by humans, which makes it easier for people to feed them poison. Furthermore, they are more likely to go in search of food and might pose as a nuisance to people who might not want them around.